ISO 9001 Cost | ISO 9001 Certification Cost | ISO 9001 Accreditation Cost | UK | Certification
How Much Does ISO 9001 Certification Cost In The UK?
When considering the creation of new quality management approaches, businesses ask themselves how much does ISO 9001 certification cost.
However, it is not possible to come to a considered view in this respect without conducting an assessment of the overall requirements of the accreditation process. You see, there are a multitude of factors rather than one that contribute to the 9001 certification cost UK firms need to weigh up which can be difficult for businesses without experience of implementing ISO quality.
What Is The ISO 9001 Standard?
ISO is the International Organization for Standardization which develops and publishes many different international standards.
ISO 9001 is the number one international standard for quality management certification. Utilisation of the standard will enable your firm or business to company to deliver growth via excellent and profitable services and products package that satisfies the needs of stakeholders and customers alike. ISO 9001 helps to reduce your costs by enabling your company to utilise world class quality assurance which in turn can also enhance customer service to help grow your long term business.
[contact-form-7 id="15241″ title="ISO Costs Page September 2017″]
A. What Are The Implementation Costs?
These cover:
Company Employee Costs
Acquisition of Skills and Knowledge
Using External Resource
A further subset of the above includes consideration of options including:
Use specialist ISO certification professionals with an online quality management system
Employ a general ISO consultant
In house staff team resources
Utilise proprietary templates
And finally, the relative overall cost effectiveness of each of the following depends on the organisation's capabilities and resources and involves 4 components:
Up front costs
Hidden costs
Opportunity costs
Different phasing periods to achieve certification and accreditation
B. What Is The ISO 9001 Accreditation Cost?
C. Are There Post Implementation Audit Costs?
That's why using the expertise of a professional ISO 9001 consultant can minimise the cost burden of implementing new quality procedures in line with the standards and ensure that they can realise the benefits of this quality management process and certification for their company and business clients as soon as possible.
There is no such thing as a universal 9001 accreditation cost or quote to buy from because the the expenditure required in a UK business to achieve ISO via an independent registrar is dependent on a wide range of process factors.
Principal Certification Cost Drivers
No ISO certification service provider or registrar can provide just one price list of services package because quality management deployment costs are relative to a business's size, employees and complexity.
As you can see from the 2 examples below, the ISO accreditation cost firms will have to bear are directly dependent on the extent of the existing quality management processes in place, the extent of management procedures required, the size and relative complexity of an audit, operational structures and the optimal 9001 accreditation cost UK that a company requires.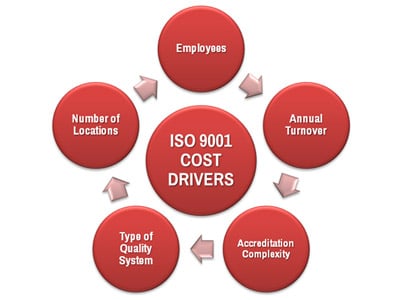 Lowest Cost Scenario
Number of Employees – Up to 100
Annual Turnover – Up to £500,000
Number of Locations – one
Existing Quality Management System – Extensive procedures exist
Accreditation – Simple audits
Highest Cost Scenario
Number of Employees – 500 and above
Annual Turnover – Above £5,000,000
Number of Locations – Over 10
Existing Quality Management System – No procedures exist
Accreditation – Complex audits
What Quality Factors Determine Your ISO Cost?
Let's take a look.
A. Introduction Costs

1. Employee Costs
Quite often this aspect is not measured by a business and hidden standards "opportunity costs" almost always prevail with quality management system implementations. You see more often than not, employees in a business will be spending a fair amount of time implementing the quality management system rather than their core duties. This can be quite expensive if say a highly paid line manager or senior engineer is involved in creating methodologies and documentation for ISO 9001 certification.
2. Acquisition of Skills and Knowledge
Knowledge of implementing standards and ISO 9001 certification will naturally be gained during implementation. However, there is an additional certification cost arising from the need to maintain the quality management scheme by ensuring that company employees possess the skills required to do so and buy training. Training costs can be high if formal off site courses are undertaken or more modest if skills are acquired by online training and use of relevant English books on the subject.
3. Using External Resource
Depending on the size and skill base of your operation, a business may require additional consultant resource to ensure smooth running of the QMS implementation. If an organisation has limited knowledge of ISO 9001 accreditation cost impacts, insufficient numbers of employees or staff who lack experience in quality management projects, then additional, perhaps just one external consultant resource to develop and assist with the deployment of ISO standards will be required.
Using external expertise will ensure that standards projects keep moving forward and ensure that the process change means that a business is not wasting time and resources on tasks like production of unnecessary audit documentation.
B. Management Systems Cost
Once a business has devised its ISO quality standard, it will then be required to have a certification audit carried out on its quality management system by a consultant. In other words, inspected by an independent third party who determines if the QMS is compliant with the standard.
After a successful ISO standards audit, a certificate is awarded by the registrar certification body to confirm compliance. This is an additional 9001 ISO certification cost UK a business is required to buy. The cost of this certification is determined by the number of operational sites and employees a business has. It is important to note that globally recognised certification bodies often quote higher fees than country specific competitors.
C. Post Introduction Quality System Audit Costs
There is an ongoing requirement for annual "surveillance" audit by a consultant in the 3 years after the initial certification audit has been completed. After the 3 year period is up, then the business will need to be subjected to an ISO "re-certification" process audit implementation means that an enterprise is not wasting time, finance and resource audit using a consultant. It is important identify the likely costs of this activity and budget accordingly.
Standards Implementation & UK ISO 9001 Certification Cost
When considering the cost of ISO 9001 and how to achieve ISO certification, there is no such thing as one standard audit package or consultant services price list. However, a business has 3 different implementation options available to them.
Here are the 4 ways a business can utilise to carry out their implementation in descending order of cost effectiveness.
Use Specialist ISO 9001 consultancies with online QMS support
Employ a general ISO consultant
Internal staff team resources
Utilise proprietary templates
Why Not Use 9001 Specialists Offering An Online QMS Support System?

The goal of implementing ISO 9001:2015 is not just to conduct a management systems standards audit and obtain an accreditation certification. It's also about bringing about improvements to an organisation's procedures, company employees and methods in order to reduce costs, improve productivity, provide better products and services and revenue growth.
Utilisation of a specialist ISO 9001 consultant like RKMS that provide complementary online support can deliver a lot of advantages.
ISO consultancies bring unparalleled expertise to the planning and delivery of ISO implementation projects. They act as a catalyst for effective planning and "fast track" the implementation process by securing management commitment for adequate  funding.
An Online Support System Can Reduce ISO Implementation Costs
Moreover, deployment of online consultant support systems reduce the audit workload on company employees, speed up implementation times and provide support continuity with the consultant after the implementation phase has finished.
A competent consultant should be able to organise as well as plan QMS actions, assist with identification and documentation of all business procedures, suggest services and process improvements, recommend appropriate bench marking practices, guide investigations provide training customised for all relevant functions in a business and conduct thorough audits on restructured procedures and working practices.
In this way, a consultant can add a lot of value to an organisation's methods based on the skill, knowledge, resources and experience they have built up over time from working with many different types of enterprises.
Get a Quicker Pay Back on Your Quality Management Systems Investment
When you consider the ultimate benefits that an ISO quality system will bring to a business, it makes a great deal of sense from a cost benefit perspective, to utilise a specialist external quality management consultancy because organisations will save time and money by getting a quicker pay back on its quality management and certification finance investment.
Employ a General ISO Standards Consultant
Hiring a general ISO consultant is one sound approach to adopt. ISO certification consultants work faster because they are not distracted by other "internal" priorities. Furthermore, the consultant can estimate and deploy technical audit skills which may not exist in house or be in short supply.
ISO consultants can provide unique QMS systems tailored to the specific needs of a particular business and ensure that the resulting quality management regime is efficient, fit for purpose and delivers real improvements in productivity. Unlike the "template" approaches described below, utilisation of ISO consultants significantly lowers the risk of "getting it wrong".
On the other hand, an ISO consultant does not publish any form of price list firms can use to glean the costs of implementing ISO procedures. The location, number of employees, qualifications and expertise of general ISO consultants govern the relative fees of employing their services which might not prove to be the kind of affordable 9001 certification cost UK organisations can justify when they can be quite high if they need to deploy significant resources to deliver the required accreditation.
There are a few other downsides to using a general ISO consultant as well including limited control over their activity and the fact that they cannot provide the continuity that an employee would and their knowledge and expertise disappears when the project is finished. A generalist ISO consultant may bring fresh ideas and perspectives, but their lack of knowledge about what works and doesn't work in your operation as well as the nature of challenges the enterprise has had to overcome in the past may compromise the cost of 9001 implementation with them.
In House Project Team Implementation
Adopting a "do it yourself" process audit approach involves assimilation of data relating to the ISO quality management standard and the certification process among responsible employees. Once sufficient knowledge of the ISO quality management system (QMS) standard is attained, the responsible employees must translate that knowledge into a meaningful interpretation of the standard for their organisation. This includes the formulation of methods, procedures, measures and management controls etc.
In addition, in depth training must then be organised to ensure efficient and effective implementation of the standard throughout the organisation's processes.
The benefit of this approach is the knowledge held within the business or organisation about its processes and their documentation and perhaps minimise the ISO certification cost a UK business may have to incur. However, the significant downside is the significant amount of time and resource required to create the process and mandated documentation, the need do training for employees afterwards and a longer implementation time required compared with other methods.
Utilise One of  Number Of Proprietary Standards Templates
In theory, the utilisation of a package of ISO 9001 documentation templates can provide an acceptable method of establishing a QMS. Used wisely and intuitively by knowledgeable employees, templates can make it easier to implement the 9001 standard and reduce the ISO 9001 English registrar cost.
On the other hand, used inappropriately the template approach that an enterprise may buy to minimise their ISO 9001 cost can be problematical. For instance, can a prospective template system be customised to suit an organisation's needs and implemented effectively and efficiently? Does the template system come with stage by stage instructions which provide a detailed explanation of how to adapt them to an organisation's circumstances?
Remember, it is vital that the requirements of ISO 9001:2015 are applied to your organisation's processes rather than concentrating on ISO 9001 certification cost alone.
Businesses using templates to create their ISO 9001 system need be to be mindful of their application. Good templates, applied with knowledge of the 9001 standard and an organisation's procedures, might result in a good ISO 9001 QMS that will improve an organisation's operations, make them more efficient and productive to justify the additional expense UK organisations have to bear.
However, there is a major risk factor with the template approach – incorrect application.
No matter how professional an ISO template system is, it will always need customising. The one key issue in this case arises in a business when templates are "blindly" adopted without proper adaptation by employees to an organisation's processes. That's because a poor ISO QMS will lead to inefficient operations and prove burdensome to the organisations operations and productivity.
This could result in wasted implementation costs, ISO accreditation registrar costs and worst of all, increased operating costs from the organisation's perspective.
Implementation Tips
It goes without saying that good forward planning is the key to success with any QMS implementation project.
Costs that are hidden can compromise any project. Therefore, it is extremely important to carry out a thorough assessment and estimate of all likely internal and external costs, provision for them and add a provident contingency cost on top.
One manager should be appointed, all internal staff who need to be involved in the project identified and a team established with clear roles and responsibilities. Once the team is up and running the scope of the quality management scheme should be well defined after ensuring that implementation staff have acquired the necessary skills via training and mentoring.