ISO 9001 Consultant Providing Real Benefits With User Friendly Systems!
ISO Experts Providing Quality Systems & Cost Benefits
The RKMS ISO 9001 consultant approach is to understand how an organisation operates. Then working closely with nominated personnel, our consultant will help develop an ISO 9001 quality management around existing working practices, instead of developing new processes that force an organisation to modify the way it operates.
For our client's benefit, we pursue innovative working practices to secure ISO 9001 certification and cost effective quality management processes in order to deliver certification for organisations efficiently and in the shortest time possible.
This is possible through the utilisation of our own ISSOSmart Cloud QMS management.
ISO Accreditation – Delivering Results That Add Value to Your Business
Quick Implementation & More Value
Time and money savings
Quicker ROI & pay back on 9001 project costs
We add extra value from its client experience
Better productivity & lower costs
Improved quality products & services
Manage & plan QMS activities
Process identification & documentation
Suggestions for process improvements
Better benchmarking practices
  Easy Use Cloud QMS System
Faster implementation time

Less work for personnel

30 minutes to build a system

Part & full quality system builds

Full compliance & easy use

Integrate standards eg ISO 27001, ISO 9001

Phone, tablet or desktop  access

HABC Level 3 Auditor Qualification

Continuing support after certification
Our ISO 9001 consultant will achieve this by:
Conducting a thorough assessment of a client's quality requirements
Simplifying & revising management of current quality processes
Converting current procedures, making them 'process based' and thus easier to use and understand
Assisting organisations to obtain standards certification and documentation
Free up time to pursue core management activities
The integration of ISO 14001, ISO 9001, ISO 27001 Cyber Security & ISO 45001 management systems standards
Attendance at quality management review meeting and conducting internal audits
Our consultants are IRCA qualified Lead Auditors and possess many years of experience testing, assessing and implementation of quality management processes and also obtaining ISO certification
RKMS has a 100% success rate achieving ISO 9001 for clients across many diverse industries.
How To Get ISO 9001 Certification – 6 Simple Steps
Step 1 – Assessing Your Requirements
After we have received your enquiry, an RKMS ISO 9001 consultant will be contact within a 24 hour period in order to assess your need, determining things such as your target date to gain certification, your facilities, company background, services and products. This is part of the free services we provide to companies.
Step 2 – Assess Your Current Systems
One of RKMS's consultants will conduct an exploratory visit, meeting with your ISO team, assess your quality requirements, identifying and documenting your organisation's processes and carry out a variance analysis comparing your existing processes to the ISO 9001 standard.

Step 3 – Working Practices & Systems Assessment
Our consultant will then recommend the actions required to assimilate ISO 9001 quality inside your organisation, support and collaborate with your team bring your working practices into alignment with the standard and finally, prescribe suitable bench marking approaches.
Step 4 – Building The QMS – ISO 9001 Quality Management System
Nominated members of your organisation will learn how to use the online IssoSmart Cloud QMS via practical "hands on" tutorials backed up by a comprehensive set of training resources.
Working closely with your staff, an RKMS ISO 9001 consultant facilitates the plan and project implementation timeline as well as determining all ISO 9001 project implementation activity required. After this has been finalised, a full array of data and ISO 9001 standards documentation is produced to enable the execution, governance and security of the new quality system.
Step 5 – Getting Certification To 9001
At about 4 months after introducing the new QMS into your organisation, our consultant will carry out internal audits to see whether or not your organisation's systems and procedures comply with ISO 9001 standard. Following this, a further management support review will be held with consider if any remedial activity is needed.
Then an independent external assessment is carried out by UKAS certified organisation after you are confident that the new quality management regime meets ISO 9001. After a successful third party audit, an official 9001 registration certificate is then issued.
Step 6 – Future Auditor Training For Your Staff
Designated members of staff will receive the training course they will need to enable them to learn how to conduct ongoing audits including a certified HABC Level 3 Award In Effective Auditing and Inspection qualification.
RKMS Deliver Quality Management Systems With Real Benefits
Of course the fundamental reason for hiring a proven 9001 consultant is to help reduce the time it takes to implement all the actions required to achieve certification. Good consultants provide this consultation support to ensure that companies avoid tricky pitfalls by providing the expert assistance you need to achieve ISO 9001 certification that meets your requirements in a very timely way. A consultant cuts out unnecessary activity and provides businesses with cost effective services and a quick path to your certification.
A good ISO 9001 consultant will provide clear guidance regarding the detailed criteria, data and types of evidence that auditors from the certification body will seek out for by leading you through a step-by-step implementation programme. Good consultants help will remove the burden from your employees by establishing clear requirements, recommending optimal solutions, conducting all the analysis required, training your staff and preparing all requisite documentation and governance guidance.
Please Beware Of The Pitfalls!
Before you engage the help of any ISO 9001 service, it is always prudent to conduct due diligence first. Why? Well, a firm may claim be a cost effective ISO 9001 service. However in reality, they may know very little about doing this type of work or possess the necessary credentials or experience to back their claims up.
Secondly, if the consultancy is doing all the work by themselves without the involvement of your staff, the end product documents will not reflect your actual business needs. So, after the consultant has stopped working for you, your staff will have no idea how to maintain the process and documents. The documents won't be usable in your business and your staff may reject laid down processes.
What Should You Look For In A Quality Management Service?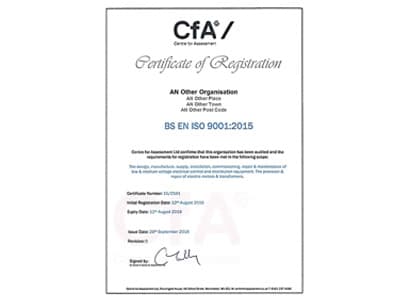 Track Record
Who have they worked for? What kind of projects have they worked on? Does the 9001 consultant make case studies of their work available? Will they provide free and frank testimonials? And are they happy for you to contact their clients to check them out?
ISO 9001 Practice Credentials
In your due diligence research process, check out whether the consulting service themselves hold ISO certifications.
Expertise Of Individual Consultants
Check the background of individuals that would work on your project.  Is the consultant a registered auditor with the International Register of Certificated Auditors (IRCA)? How many jobs have they done? For what type of organisation?
Tailored Service
Spending money on a standard off the shelf "cut and paste" solution will provide little benefit for your company if it has no relevance to your business and your employees cannot manage the new QMS. Ask yourselves these questions. Does the consultancy understand my business? Do the consultants use language my staff can understand? Will they adapt their solutions to suit the exact needs of my organisation or business?
Please contact us using one of the enquiry forms on this page and see how we can help you achieve your goals in an economical and timely manner.